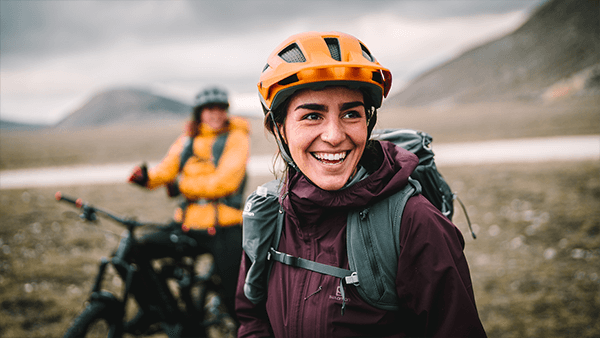 September 09, 2020
Salomon and Suunto $5000 Women's Adventure Film Tour Grant
We believe the outdoors is for everyone. Nature provides the freedom to be yourself with no judgment and no rules and a natural testing ground to help push your physical and mental boundaries. We are passionate about providing you with gear to take Any Path, Your Way. Partnering with Suunto, Salomon would like to provide a $5,000 grant in support of the Women's Adventure Film Tour. Through this grant our goal is to work with an inspiring female adventurer to create a film that helps communicate that The Great Outdoors aids in dispelling the gender based stigmas and clichés that are often found in daily life. We are very delighted to be able to support this person and that through their creative work, help encourage and inspire more women to get outside and play.
At Salomon women play a vital role in product development of the outdoor range of footwear, apparel and gear from concept creation to design. They are experts in biomechanics, fit, materials, and product usage and are constantly studying the evolution of outdoor sports. Also, women have many roles at many levels across the entire Salomon Business and are core end users being hikers, climbers, runners, skiers and mountain bikers themselves.
Suunto was born in 1936 when Finnish orienteer and engineer Tuomas Vohlonen invented the mass production method for the liquid-filled compass. From the highest mountains to the deepest oceans, they give you the tools to track and guide your adventures. They are thrilled to be in a position to enable people to turn their adventure dreams into reality. Suunto believes adventures aren't only about pushing one's physical limits in far away places, but that the search for adventure is really a mindset that all of us share. It's about new experiences, big and small. It's about just getting out there regardless of the size of the challenge!
Together we are committed to supporting women's initiatives and their quest for adventure in the great outdoors so are looking for a female candidate to produce a film that best supports and inspires the women's' community to engage in the outdoors in Australia. We are thrilled to have this opportunity to help spark creativity and adventure that in turn will bring a resulting story to the screen at the Women's Adventure Film Tour in 2021.
This film must be made in Australia - which is home to some of the world's most pristine beaches, vast, barren desserts, snow-topped mountains and dense bush filled with wildlife – we have the perfect playground. Whether it's a film about being the first woman to do a crazy expedition, a story about women's' community and connection to nature, or seeking out ways to improve and help our environment - the world is your oyster and we can't wait to see what you come up with!
#timetoplay
WHO IS ELIGIBLE TO APPLY?
The Salomon Womens' Adventure Film Grant is open to residents of Australia only.
PRIZE INCLUSIONS
The winning grant will receive the following: $5000 grant to produce a film. Plus Salomon & Suunto gear required for the expedition
HOW TO ENTER
Please visit the WAFT website to learn more or apply for the grant. Submissions must be posted or received by November 30th, 2020. Once the submission period closes, the grant will be awarded by a panel of experts from Salomon and the winners will be announced on January 30th, 2021. The film must then be submitted by July 31st, 2021