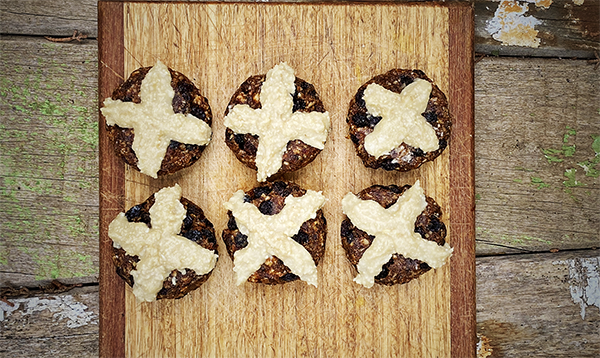 April 10, 2020
Lucy's Hot Cross Bliss Balls
ENJOY LUCY'S EASTER TREAT - HOT CROSS BLISS BALLS!
Salomon Athlete Lucy Bartholomew has put together a delicious recipe for hot cross bliss buns!
Make an Easter favourite - into a healthy post run treat...
Ingredients  
Bun:
1 cup dried dates, soaked in hot water for 10mins and then drained 

1/4 cup crystallised ginger 

2 heaped tsp all spice 

1/2 cup shredded coconut 

1 cup almonds 

1 tsp salt 

1/2 cup currants (could be subbed for mini chocolate chips, would be awesome) 
Cross: 
1/2 cup cashews 

2 tbsp lemon juice 

1/4 cup coconut oil, melted 
To make the bun 
In blender add dates, ginger, almonds, all spice, coconut and salt
. 
Blend on high for 1min until combined. Empty into a mixing bowl
. 
Add currants and mix
. 
Using damp hands roll into balls and flatten slightly on a lined tray or plate  
To make Cross
Add cashews, lemon and coconut oil into blender. Blend for 1min until combined
. 
Using damp hands place the cashew blend onto the balls in an X shape, or a design of your own
. 
Place into freezer and leave for 20 minutes
. 
Remove, share and enjoy!
Happy Easter!