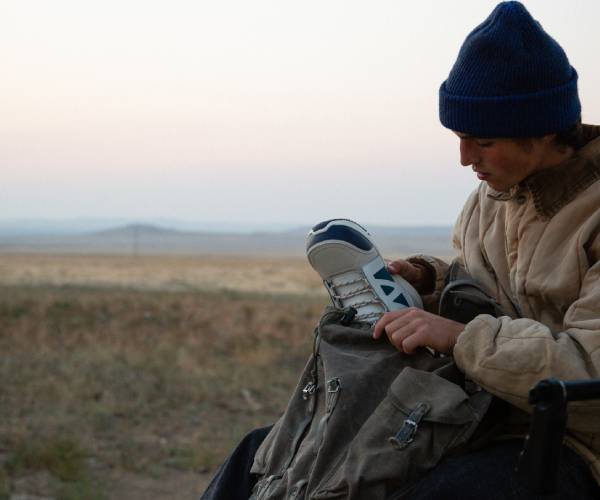 May 31, 2022
How to choose the right snowboard boot
Snowboard boots are one of the most important pieces of equipment out there when it comes to picking out your gear. Having the right boot will help you stay on the hill longer, ride harder, and ultimately help you get more out of your on-snow experience. Knowing how important the right boots are to your snowboarding, if there's anywhere you should invest a little more money, it's your feet. To help you navigate all the different elements and options available, we're here to break down the snowboard boot and help you find the right fit for your unique riding style. Let's get started.
With so many different options to consider, we're here to help you find the right fit when it comes to your unique riding style.
When choosing a snowboard boot, here are the most important things to consider:
Fit and sizing
Fit is the single most important thing to consider when you're choosing a snowboard boot. You can find a boot that matches your riding style, has the right flex profile, and comes with your favorite lacing system, but if it doesn't fit right, you're much more likely to have sore feet and your performance will suffer – and that's no fun. A proper-fitting snowboard boot should feel snug and secure without causing pain. Most boots take a few days of riding for the liners to pack out to their true fit, so out of the box your boots should feel relatively snug. If your boot feels like a comfy shoe out of the box, it's probably too big and will become more and more uncomfortable as the boot packs out. 
When you're trying a snowboard boot for the best fit, the three areas to pay attention to are your toes, heels, and the width of the boot. When it fits right, your toes should nestle against the front of the boot, but without them curling back. There should be just enough room for your toes to wiggle slightly. Your heel should stay in place when you bend your knees forward. If your heel moves around, you're probably gonna be in for some pain and fatigue while you're riding. If your heel is particularly narrow and wants to move around in your boot, there are several boot options that include harness systems to help lock your heel down. These types of harnesses can get rid of heel lift altogether and give you a more secure fit. 
When it comes to sizing, start with a boot that's true-to-size based on a proper measuring tool. If you think you may be on the wide side, or you're not sure what your boot size is, we recommend getting a measurement from an in-store expert as normal shoe sizes don't always give you an exact measurement of your foot. If you have a wide foot, there are several wide options available that are specially designed to give you the extra space you need. 
Men's snowboards | Women's snowboards
Boot flex
Much like a snowboard, snowboard boots come in a range of options when it comes to flex and support, from soft and forgiving to stiff and supportive. Generally speaking, beginner and park riders prefer a soft to mid-flexing boot. Advanced riders tend to prefer something stiffer and more supportive for tackling more aggressive terrain. Above anything else though, boot flex is about personal preference. If you're unsure what flex is right for you, try something soft to mid-flexing as it suits a wider range of styles and ability levels. 
Liners
Snowboard boot liners are the removable part of the boot held in place by the shell. Liners are typically the part of the boot that aid comfort and fit the most. The main difference in liners comes down to customization, both in lacing systems and in materials. When trying a boot for fit, make sure you've tightened the liner lace and any other internal lacing before tightening the shell. For added customization, many boots are designed with heat-moldable materials. These moldable liners can give you an ultra-custom fit and relieve pressure points that can pop up in snowboard boots. If you want to have your boot heat-molded, make sure your liner is heat-mold capable and take it to an expert to have it done. Don't try to heat-mold your liners at home!
There are lots of other options you can choose from to improve and customize your boot liner: heat retaining materials, perforated panels for breathability, and heated liners are just a few examples. If you're hiking around regularly, a liner with perforated materials will help keep your feet dry (and warm) throughout the day. Heat-retaining materials and heated liners can provide extra warmth for people who 'run cold'. All of these features typically cost a bit more.
Men's snowboards | Women's snowboards
Lacing options
Snowboard boots come with a variety of lacing options including traditional laces, quicklaces, and the BOA® Fit System. Each option has its pros and cons, and
many boots use a combination of these systems.
When choosing the lacing system that's right for you,
some things to consider are price, convenience, and what's best for your riding style.
If you're only snowboarding a few times a year, you probably don't need an elaborate system, but you might want something that's quick and convenient. Alternatively,
if you're snowboarding regularly you might want something that offers a more advanced fit system,
or a lace that's easy to replace on the hill. Here's some info about the different lacing options to help you decide on the right system for you:
Traditional Laces
Just like a shoelace,
traditional laces are a classic option that's easy to repair and replace.
This system also gives you a way to customize your fit throughout the shell, distributing pressure in the right places over your foot. However,
traditional laces are more vulnerable to loosening throughout the day, are more prone to tearing (but easy to repair), and typically take more time and effort to lace up.
BOA® Fit System
The BOA® Fit System offers a quick, convenient, and reliable option for fitting and lacing your boots. BOA® cables are routed through ratcheted dials to give you easy micro-adjustability. BOA® options vary from single dial to triple dial and come in a combination of laces and dials. When using a combination of two or more, you typically gain more fit customization. These cables stay tight throughout the day and are unlikely to break. The BOA® Fit System is usually a bit more expensive, and on the rare occasion something goes wrong, it means going to a shop to fix the dial or cable.
Quicklace
The Quicklace system sits between BOA® and traditional laces in terms of convenience and durability. Most quicklace options provide customization in zones with one lace controlling the forefoot and the other lace controlling the ankle and lower leg, letting you add the perfect amount of pressure throughout different parts of the boot. Quicklace options also offer more convenience and durability than a traditional lace, and they can be temporarily repaired if you end up with a broken lace. These laces are usually secured with a handy and strong locking mechanism, and generally don't need adjustments throughout the day. 
Men's snowboards | Women's snowboards
Outsoles
An often-overlooked part of snowboard boots is the outsole. Depending on the outsole you choose you can customize your level of grip, board-feel, longevity, and suspension. Just like when you choose a snowboard, choosing a boot with the right outsole comes down to what you want to do on the snow. Boot outsoles range from soft, porous, lightweight EVA outsoles to dense, firm, rubber-treaded outsoles with specially-placed shanks for extra support.
EVA – EVA outsoles offer great suspension and go well with a softer-flexing shell. Where you gain comfort and suspension, you sacrifice grip and durability compared to boots with a rubber sole. Boots made with full EVA outsoles are generally less expensive. 
Rubber – Boots with rubber outsoles will give you more support, traction, and longevity. Most boots with rubber outsoles still come with an EVA midsole for suspension and comfort.
The majority of snowboard boots out there are made with a combination of EVA and rubber. Some put rubber in critical wear zones and surround those areas with EVA. Whatever boots you choose, it's good to know what they are actually capable of before taking them out on snow. If you plan on hiking in snow or walking on pavement regularly, we suggest getting a boot with some rubber for extra durability and traction.  
Now that you know all the elements of a boot and what to look for, you'll be much better equipped to find the best snowboard boot for you. Soon you'll be ready to gear up and head up the mountain.