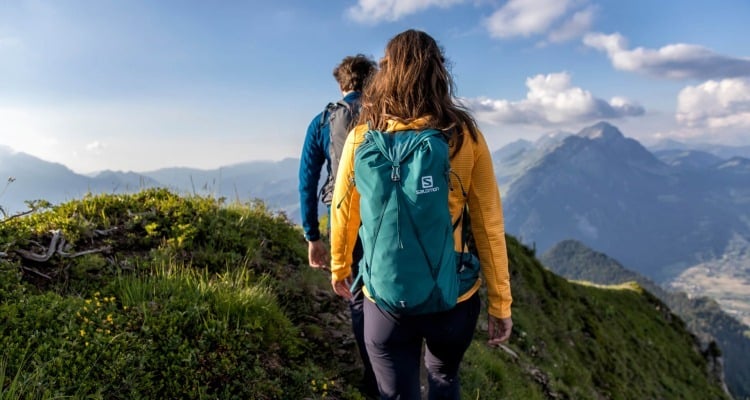 September 28, 2020
How To Choose Your Hiking Backpack
You need a backpack for every one of your adventures! For a Sunday stroll with your family or the trek of your dreams, your backpack will be right there with you, so you should make sure you choose the right one.  Here are our advices on finding the right hiking backpack for your trip. 
HOW LONG IS YOUR HIKE?
A few hours? A day? A weekend? A week? To choose the right backpack, the length of your hike is the first thing to consider. For a day hike, a pack between 10 and 25 liters

 should be enough. You could fit your water bottle and your picnic in this pack, as well as a jacket and 

sunscreen, to cater for all weather conditions!
For more than a day hike, you should think big! You will need a pack between 20 and 35 liters

. 

It's likely that you'll carry more gear in your pack for a multiday hike which entails camping and cooking for yourself, rather than staying in huts or rented accommodation.
For 

adventures that last for 3 days or more, we strongly recommend the minimum capacity for your backpack should be 35 liters, even if you plan to stay in accommodation. The longer the hike the more likely you are to encounter unpredictable weather, you will be more tired, need more changes of clothes, and generally have more gear. A bigger, heavier bag with extra space for all your equipment will give you peace of mind.
 
WHERE AND WHEN?
Whether you are going hiking in the desert, in the mountains or to the coast, the destination as well as the time of year should determine your choice of backpack. You won't need the same amount of gear for a week's hike in the mountains as you would for a trip to the desert or to the coast. You should research the local climate before you go and check the weather forecast just before you leave to help you decide on the size and model of your pack.
If you are going to hike in the mountains at any altitude, the weather conditions can change very quickly; the temperature can drop in just a few hours, the wind can pick up really quickly, and the sun can turn to rain at the drop of a hat. A change of clothes, a windproof jacket and several extra waterproof items of clothing will be essential.
--- Discover our jackets selection: for HIM | for HER
The weather also changes quickly by the coast or on an island, you can experience every single weather condition in a day; sun, heat, humidity, rain and fog could come at you one after the other while hiking.
In more arid regions, the chances are that it will be sunny, however there are often large differences between temperatures during the day and at night.  You will need to pack light clothing for the daytime and extra layers of warm clothing for when the sun goes down.
Your destination's climate will determine the gear that you pack and therefore the volume in liters of your backpack. It will also guide your choice of what the backpack is made from and its technical characteristics. The goal is to optimize your performance without compromising on comfort.

TECHNICAL BACKPACKS
The length, the destination and the weather are the first things to consider when choosing your hiking backpack. You should then take into account the sport that your bag is intended for as some bags will be better adapted to your needs than others. It's all a question of organization, and you need to find a backpack with features that suit you best. Elasticized side pockets, a pocket for your sunglasses, waterproof stash points, top-loading openings, panel access, compression straps, attachment points for your rope, helmet, or sleeping bag…Each backpack range has different features that can help you on your adventure.
 
10 AND 25 LITER BACKPACKS FOR A DAY HIKE OR FOR FEW HOURS. 

(PACK WEIGHT 300- 600G)
Pack exterior:
Pack interior:
Bladder sleeve for hydration

Valuables pocket or key clip

Several compartments for small items


 
Comfort
Breathable shoulder straps

Unisex design and fit

Waist strap for load stability (hipbelt)

Adjustable chest strap

A reinforced pack base for comfort and durability
20 AND 35 LITER BACKPACKS FOR A WEEKEND HIKE (PACK WEIGHT 400-800G)
These bags will have all the above features, plus extra characteristics such as attachment points for specific equipment like an ice axe, a daisy chain providing multiple external gear loops for attaching your helmet, sleeping bag, crampons etc., load lifter straps to provide extra comfort, adjustable suspension to fit your torso, and specific adjustments for differing builds particularly for women.
--- Discover our backpacks selection: for HIM | for HER
35 LITERS + BACKPACKS FOR A MULTIDAY HIKE OF THREE DAYS OR MORE (PACK WEIGHT 600G-1KG)
With this type of bag, as well as all of the above features, it's not unusual to find the main compartment split into several parts, with different access points to these compartments. Some bags even have a waterproof pocket on the inside of the backpack.
--- Discover our backpacks selection: for HIM | for HER

ULTRALIGHT BACKPACKS
With the increasing popularity of fast and light hiking, where summits are reached at lightning speeds in hours instead of days and where cell phones have replaced cameras, we are currently riding on the ultralight wave, where light equals freedom.  With the evolution of hiking equipment and the use of new materials our packs have become much lighter, however the comfort level remains the same. There are lots of minimalist packs made for the trail running market, but there are also some XXL hiking packs that are just as light.
HIKING BACKPACK SIZES AND FIT
When considering which backpack to buy it's important to take into account its volume, which is the capacity in liters of the backpack, as well as the frame size, in relation to your build. One size doesn't fit all, so there is a size that fits you!
Technical backpacks are available in different sizes depending on the length of your torso.  Manufacturers use different methods to calculate torso length so please go to your nearest store for more information on how to fit and adjust your backpack.
There are also backpacks that are designed specifically for women as well as backpacks for specific sports.  Most packs can be adapted and made smaller or bigger by tightening or loosening the shoulder straps and hipbelt.
How comfortable your backpack is depends on how you load it.  Distribute the weight evenly to make sure your pack is comfortable and everything is accessible when needed.
COST AND DURABILITY
The most expensive bag isn't necessarily the best choice for you! However, how much the backpack costs often depends on the quality of the materials used, as well as the features it has.  The price you are willing to pay depends on your future projects and your budget of course.
If you only do short hikes from time to time you don't need to spend a lot of money on a top of the range, technical pack.  On the other hand, if you are an experienced hiker and you hike regularly for at least a few days at a time then the investment would be well worth it. A hard wearing nylon pack is more expensive than a polyester pack but it's a lot more durable. A backpack with good ventilation and mesh material on the back, shoulder straps and hipbelt would also add comfort.
Remember to take care of your backpack by regularly cleaning and maintaining it, so you can keep your hiking bag as long as possible!
You now have all the information to choose the right backpack, all you have to do now is decide on the color! Have a good trip!