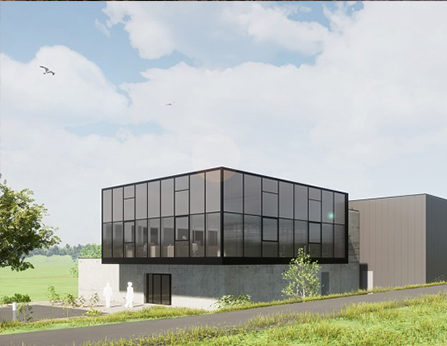 September 24, 2020
Salomon Announces Footwear Factory In France
Localized production has been a longtime goal for Salomon, which has had its roots in the small town of Annecy, for more than 70 years. Today, that goal has become a reality due to a partnership with local textile production company Chamatex. The two companies will team up on the construction of Advanced Shoe Factory 4.0 (ASF 4.0),a new footwear manufacturing facility in the Auvergne-Rhône-Alpes region of France. ASF 4.0 was founded by Chamatex with the goal of designing, building and operating a smart factory (known as a 4.0 industrial tool) dedicated to the automated production of sports shoes in Ardoix, France.
The factory, located just 200 kilometers (125 miles) from Salomon headquarters,will have the capability to produce footwear from start to finish, and the agreement makes both Chamatex and Salomon shareholders of ASF 4.0.  
"Being as close as possible to our consumers and having the capacity to respond to their demands more quickly aligns with Salomon's vision of responsible innovation," said Guillaume Meyzenq, Vice President of Footwear at Salomon. "When Chamatex presented us with the idea of partnering on the ASF 4.0 project, we viewed it as the perfect opportunity to bring some of our production closer to home and transfer shoemaking skills to France. Not only do we expect to reduce the development life cycles of our products, but also lessen our carbon footprint during the development and transportation processes."
REACTIVITY, FLEXIBILITY & SUSTAINABILITY
For Salomon, the benefits of local production are many. First, simplified logistics will allow for greater speed to market and reactivity to local product needs such as potential stock shortages in the European market. Second, the local factory will offer greater flexibility in the development of Salomon's product line, allowing the company to test new models that might be produced in smaller volumes. The use of robotics in the factory also streamlines the assembly process, offering a competitive solution to Asian production costs. Finally, localized production is more environmentally friendly because it minimizes the carbon footprint associated with shipping from factories overseas.
The construction of ASF 4.0 will also create new jobs in France by employing approximately 50 individuals, from skilled operators to engineers and programmers.
Chamatex, a manufacturer of textiles since 1980, chose Salomon as its primary partner in the ASF 4.0 factory construction because of the historical collaboration between the two companies and the technical know-how gained over that period. Many of the Salomon shoes made at the ASF 4.0 factory will use the Matryx® material that Chamatex supplied to Salomon for the Cross / Pro trail running shoe, which debuted for the spring/summer 2020 season. The Cross / Pro has a four-way sock-like upper with multi-fit technology to adapt to your foot shape and foot-hold preference. The Matryx® exo-skeleton is designed to hold the foot securely in place during a technical trail run.
Chamatex and Salomon will also be applying the knowledge gained when Salomon created its ME:sh range of personalized footwear in 2017 and 2018, which involved the use of robotics to create personalized running shoes inside Salomon's Annecy Design Center. 
"The ME:sh footwear range was our first venture into full automated production (using Twinskin technology), product customization and localized footwear production," Meyzenq explained. "It was created to learn how to become more flexible and reactive to consumers' needs, to employ the use of robots in production, to improve speed to market and to lessen the carbon footprint of footwear production. After this first step, we're excited to apply those key learnings as we kick off the ASF 4.0 project with Chamatex."
On Thursday, September 17, ASF 4.0 celebrated the laying of the foundation stone for the future factory, surrounded by its partners. Shoe production at the factory is expected to commence in mid-2021. The first Salomon footwear from the ASF 4.0 factory will be produced shortly after that and be available for purchase in December 2021.
"We will learn a great deal about the potential to localize production in the future via this pilot program at ASF 4.0," Meyzenq said. "The factory will prioritize its efforts on our best-selling models and most innovative releases and the proximity between the place of production and the Annecy Design Center, where all of our innovations originate, will be a major asset in accelerating and optimizing the development of our products."
MADE IN FRANCE FOOTWEAR
The objective of the factory is to produce 500,000 pairs of shoes per year by 2025. Fifty percent of those shoes will be Salomon. The other half will be made for several other Chamatex footwear partners. The Salomon shoes created at ASF 4.0 will be distributed across Europe and will be 100 percent produced in this factory. They will be identified as "Made in France."
"This project is fully in line with our social and environmental approach," said Marie-Laure Piednoir, Sustainability Program Manager at Salomon. "Via the Salomon Play Minded Program initiated in 2016 and by signing the UN Fashion Industry Charter for Climate Action in 2018, Salomon made major commitments such as reducing its carbon footprint by 30 percent by 2025 and carbon neutrality by 2050."
To learn more about the Play Minded Program and Salomon's sustainability commitments, visit https://www.salomon.com/sustainability