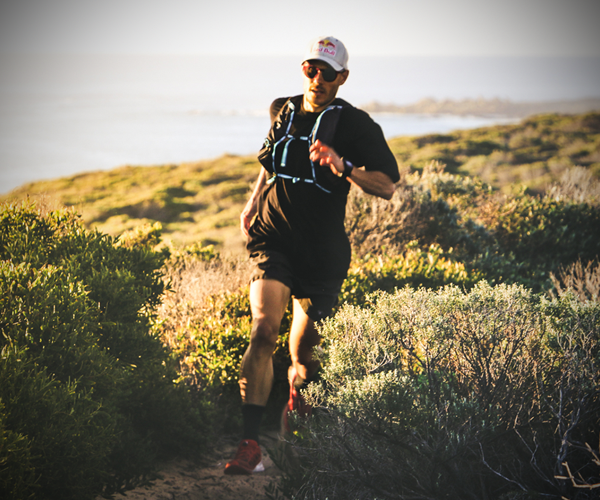 May 26, 2020
7 of the Best Australian Running Trails? | by Courtney Atkinson
With Covid-19 restrictions slowly lifting, we are all itching for adventure. In this time people are reflecting on past adventures and planning for the future as present times have been interesting! We felt now is the perfect time to share a trip Salomon and Red Bull endurance athlete and dual Olympian, Courtney Atkinson, did back in the middle of winter 2018 when he set out on a crazy running adventure around Australia.
The name of the project is 'In just SEVEN days' and the goal was to discover the best running trails in Australia - one for each state and territory in the country. He now wants you to challenge him on this, are these the best? We will be running a LIVE Facebook Event with Courtney
 

Thursday, May 28th for you to join in and share with us your favourite trails.
Are these the best running trails to see in Australia?
Courtney's mentions "Trying to get around to these remote points in Australia in just 7 Days; the running is easy, the months of preparation is the hard part." Let's read on to get the lowdown from Courtney on the trails and find out why he chose these seven.
DAY 1 // KINGS CANYON // NORTHERN TERRITORY
Why This Trail? "The landscape around Alice Springs is one of my favourite places in Australia. I'd already run throughout the region a fair bit including theLarapinta trail. But hadn't been out to Kings Canyon before. Known as one of the best outback attractions we have.
Rate it? "Yes. Australia's little grand canyon. Running through similar terrain to a small version of the Bungle Bungles. I can now see why it's such an tourist hotspot."
Distance:5.38 km
Location: In the heart of the Northern Territory between Uluru (Ayers Rock) and Alice Springs in the Watarrka National Park.
Access: 4-hour drive out of Alice Springs. Carpark at Trail Head entry to Kings Canyon.
Sleep: Outback resort (cabins) and campsite 5mins drive away at Kings Canyon Resort
Terrain: Semi-Technical rock running. The loop starts with lactic burning few-hundred steps. Worth seeing at sunrise.
Difficulty: 5/10
Download the Kings Canyon GPS / KML track file from my Strava
DAY 2 // WILPENA POUND, FLINDERS RANGES // SOUTH AUSTRALIA
Why this trail? "It's come up in conversations a few times with well-travelled hikers as their favourite area to go to in Australia. This particular aerial photo made me want to see what all the fuss was about."
Rate it? "The view at the top over the pound is epic, but the run home was maybe one of my favourite sections of trail EVER!
Distance:17.18 km
Location: A natural amphitheatre of mountains in the heart of the Flinders Ranges National Park, South Australia.
Access: 5 hour hr drive from Adelaide. St Mary Peak Trail loop starts 200m away from the Wilpena Pound Resort.
Sleep: Range of accommodation options at Wilpena Pound Resort
Terrain: Good fire roads through the valley tracks then steeper rocky ground to get up over the saddle next to St Mary Peak. Trail markings a bit hit and miss. Worth taking a phone or GPS for navigation.
Difficulty: 7/10
Download the St Mary Peak Hike GPS / KML track file from my Strava
DAY 3 // CAPE TO CAPE // WESTERN AUSTRALIA
Why this trail? "An iconic great walk of Australia along the blue azure waters of the Indian Ocean. Each year it's also the location for major MTB and trail run races in the region".
Rate it? "A REAL RUNNERS' run along the surf breaks from the Cape Naturaliste lighthouse start point to the town of Yallingup. Leave the rest to hiking with a backpack."
Distance:31.84 km
Location: Southwestern region of Western Australia at the western edge of the Geographe Bay
Access: 3 hour highway drive south of Perth. The trail starts here at Cape Naturaliste Lighthouse.
Sleep: Seashells Yallingup is where we stayed, but there are a range of accommodation options all along the coastal tourist towns.
Terrain:Starts with a few kilometres on concrete track before getting into the excellent running single track along the top of dunes next to famous surf breaks. Once you start hitting some of the beaches stretches the sand is SOFT! Tough going and then the trails turn more into sandy 4×4 tracks. Reasonably well signed throughout. Although navigation on and off the beach access points get a bit tricky at times, but you work it out.
Difficulty: 7/10
Download the first 30km of Cape to Cape track GPS / KML track file from my Strava
DAY 4 // 12 APOSTLES // VIC
Why this trail? Finishes at the signature landmark of Victoria
Rate it? Another unique part of Australia. Iconic Finish. Worth a run if you're in the area. Head for the mountains otherwise.
Distance:7.63 km
Location: Track follows the route of the Great Ocean Road in Victoria
Access: Multiple points to make it up to 100km. I started in the little town of Princetown as I had limited time in the area.
Sleep: Made it a day trip from Melbourne Airport
Terrain: There is easy to follow single track trail all the way to the top with very good running trail underfoot with some incredible views.
Difficulty: 4/10
Download the Princetown to 12 Apostles GPS / KML track file from my Strava
DAY 5 // WINEGLASS BAY // TAS
Why this trail? I ran in the mountains over the Overland Track to Mt Ossa last year so I picked an iconic coastline spot in 2018.
Rate it? Bad weather didn't show me the best of the area but was an authentic taste of Tassie trails in a beautiful region. White Bays, technical tramping style climbs, and southern Australian forests.
Distance:28.86 km
Location: Access via the carpark at the trailhead for Wineglass Bay in Freycinet National Park, Tasmania.
Access: Fly into Launceston and drive out 2.5 hours out to the east coast.
Sleep: The rustic, yet modern cabins at Freycinet Lodge
Terrain: It's a diverse run over graded trails, white beaches, and some tramping style trails up to Mt Graham for the views of Coles Bay and Wineglass. If I were to rerun it, I'd recommend just doing the Hazard circuit which is 11km instead of 30km. I think it would be a good run to see everything you need to.
Difficulty: 7/10
Download the Wineglass Bay (via Mt Graham) GPS / KML track file from my Strava
DAY 5 // LAKE BURLEY GRIFFIN // ACT
Why this trail? "I only had the time to run at night. I had to sightsee the best Australian's Capital had to offer in 5km in the dark. I thought it was very fitting to choose the loop of Australia's Olympians over the years, I get joy out of running in these environments and the faster I go through them the more that internal smile comes out."
Rate it? "Canberra all lit up at night is a sight to behold. If I had to run anywhere in the ACT for scenery, this is still my pick."
Distance:5.04 km
Location: The Lake Burley Griffin Central Loop, also known as the "Bridge to Bridge," is 5km between the two bridges that go over the lake in front of Parliament House in Australia's Capital Territory. See if you can spot the prime minister out for a morning walk?
Access: Nothing is too far in Canberra, it's literally 10 minutes from the airport. The start point is right at the heart of the city centre.
Sleep: Just a kilometre out of the centre of town you can lay your head at the comfortable and new Mantra MacArthur Hotel
Terrain: Running is on a concrete footpath and wooden decking. It is fast and flat alongside the lake, with a rise at each end to cross the bridges.
Difficulty: 2/10
Download the Lake Burley Griffin Central Loop GPS / KML track file from my Strava
DAY 6 // MT KOSCIUSZKO // NSW
Why this trail? "Running to the top of Australia! I was keen to experience running the Australian backcountry in the middle of winter."
Rate it? "Amazing feeling running across the large white valleys as far as you can see makes for a different Australian experience. I'll admit it's hard going in the shin-deep powder though."
Distance:13.27 km
Location: I used the Mt Kosciuszko Summit Walk Route from Eagles Nest starting at the top of Thredbo Ski Resort (There is a longer route starting out at Charlottes Pass whichI ran last year - without the snow)
Access: Easiest to fly to Canberra, grab a rental car and drive 2.5 hours to Thredbo via Cooma (There is a $25 park entrance fee paid at booths at the bottom of the mountain). Grab a single lift pass and head up to Eagles Nest.
Sleep: We made a day trip from Canberra. But there is a range of accommodation options in Thredbo Village or the town at the bottom of range Jindabyne.
Terrain: There is no track when it's under snow, so you need to have a navigation option (and a backup if that breaks)
Difficulty: 8/10
***NOTE – if you are thinking of doing this PLEASE make sure you take the right survival gear, EPIRB, know the conditions and forecasts or better yet get a mountain guide.
Download the winter Mt Kosciuszko summit Walk GPS / KML track file from my Strava
DAY 7 // THORSBORNE TRAIL – HINCHINBROOK ISLAND // QUEENSLAND
Why this trail? "One of the truly untouched environments of Australia… and the planet. Only 40 people can do a multi-day hike the trail at one time, and it's one place I'd never been in Queensland."
Rate it? "Unbelievable. True Queensland trails, isolated beaches, rainforest, headlands. You feel lost on an island in the middle of the ocean - but in reality, you're only 7km away from the mainland."
Distance:29.02 km
Location: The trail is on the eastern side of Hinchinbrook Island the tropical paradise of Australia's largest island national park. It's just 2 hours north from Townsville off the Queensland Coast.
Access: Take a chartered boat with Absolute North Charters from Lucinda boat ramp. It's a 2 hour drive north of closest airport Townsville. ***You must have aQNP permit for John to take you to the island.
Sleep: We stayed right across the road from Boat Ramp in Lucinda at Hinchinbrook Resorts Lucinda.
Terrain: Rocky headlands, elevated tramped rainforest tracks, creek crossings and long-isolated beach stretches. Queensland at it's very best.
Difficulty: 9/10
Download the Thorsborne Trail GPS / KML track file from my Strava
Watch the full documentary here.
Join us at our LIVE Event with Courtney Thursday, May 28th to challenge and discuss your favourite Australian trails!
Feel free to go ahead and use this event page as a space to post and share photos of your favourite trails, or better yet share them with everyone in Instagram and tag @salomonrunning with #timetoplayagain #ausbesttrails!
Courtney is not only an incredible athlete, but also a very talented content creator. Follow his adventures on Instagram here.