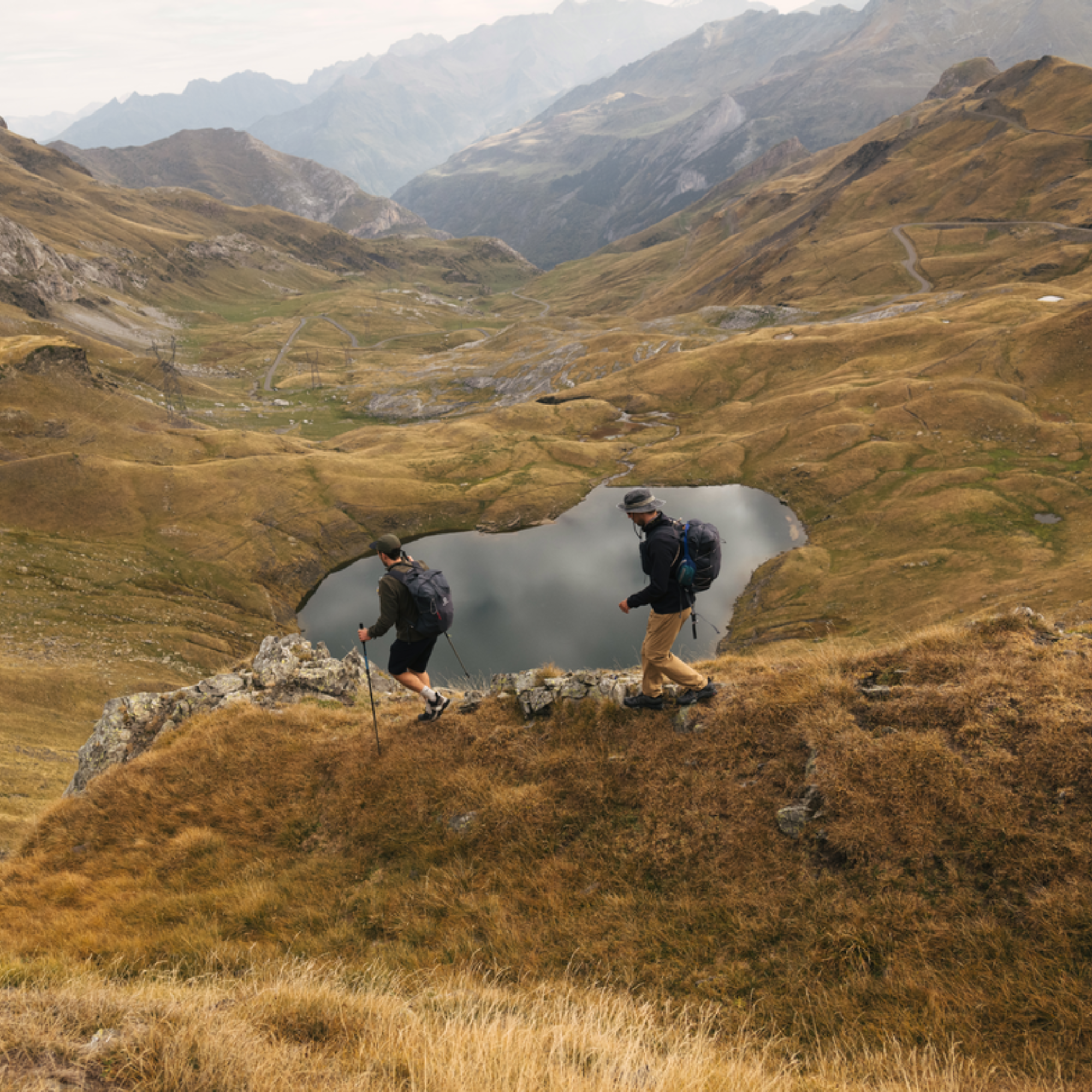 July 18, 2023
What is thru-hiking, or long-distance hiking?
If you're interested in long-distance hiking, then chances are you've already heard of thru-hiking. The words themselves, "hiking through" don't tell you much but once you dig a little deeper you'll find a magnificent universe to be discovered. Want to know more? If so, you've come to the right place!
WHAT IS THRU HIKING?
Even though there's no official definition of thru-hiking, it's commonly accepted that it's a long-distance hike done in one go from start to finish and autonomously. To qualify for this category, trails should be thousands of miles long and take months to complete.

But in reality, any trail done in its entirety can be considered thru-hiking. What's most important than the name is to be out and about!
An activity that started in the United States…
Thru-hiking originally started in the United States and that's still the place it's most often associated with today. The first trail to be called a thru-hike is the Appalachian Trail, which runs roughly 2,190 miles (3,524 kilometers) more-or-less parallel to the Atlantic seaboard. Its creation dates back to the beginning of the 20th century! Since then, other trails have been developed including the Pacific Crest Trail in the west and more recently, the Continental Divide Trail.
Women's Hiking Shoes| Men's Hiking Shoes
…and has spread around the world
In the last few years, this activity has really taken off and has even become a part of pop culture through the books and films dedicated to it (notably "Wild" by Cheryl Strayed). Also, thru-hiking trails are no longer limited to the great American routes and are being established all over the world. While some of these, like the Camino de Santiago, are quite old there are others that have been developed more recently like the Te Ararao Trail in New Zealand and France's Hexatrek. And more appear each year.
WHO CAN DO A THRU-HIKE?
A demanding but achievable challenge
Preparing for, or even imagining, a trip like this can make your head spin! And for good reason because leaving for several months brings many challenges along with it. First is the physical challenge, because you'll be subjecting your body to long days of exercise that it's probably not used to. There's also the mental challenge that comes with days when you really want to quit, or when the loneliness starts to grind you down (of course, the opposite is also true where being with others for an extended period can be just as difficult). Many of the hikers who have already completed one of these trails say that 80% of the challenge is mental. The last big challenge is the financial aspect. To go on a trip like this costs thousands of euros.
TRAINING FOR A LONG-DISTANCE HIKE: PREPARE YOURSELF
But don't let all these challenges discourage you. With the right preparation, a thru-hike is an achievable goal for most people.

To start with, good physical preparation is required, and the most efficient way to do that is to begin hiking close to home, starting with day hikes and then extending the length to a few days. This will give you the opportunity to test your equipment and make adjustments, which will play a vital role in your success. Step by step, you'll learn the keys to ultra-light hiking.

Once you begin on this adventure, you'll also need to learn. You'll need to research the trail, learn about the weather, understand once you're on the trail, first aid, etc. Another aspect is managing your food and water. It will be necessary to carry everything you need and survive on your own between resupply points which can sometimes be more than a week. If you can't find stores along the trail, then you'll need to get creative. Some people hitchhike to the nearest town, others mail packages (called hiker boxes) to themselves in advance to post offices along the way.
DIFFERENT KINDS OF THRU-HIKING
Hike your own hike
On the legendary American trails, you'll often hear the phrase, "Hike your own hike," which basically means hiking the way you want. This is a central aspect to thru-hiking because everyone has their own way of doing things, their own goals, and their unique limitations. For instance, not everyone can take time off to go hiking for six months so some hikers choose to walk only parts of the route or to do the route over several years. This is called section hiking, which means doing a specific part of the trail at a time.

In some cases, (particularly bad weather, for instance) some hikers might decide to skip a section or two and continue further along. They then return later to do that section in the other direction. Thru-hikers call this a "flip flop."   
The Triple Crown
There you have it. You've had a little taste of long-distance hiking and now you want more. How about considering the legendary Triple Crown, which is the honor bestowed on those who complete the Appalachian Trail, the Pacific Crest Trail and the Continental Divide Trail? It's clearly a massive challenge, but if you want to go even further you can try joining the ultra-exclusive group of those who've done all three in the same year!