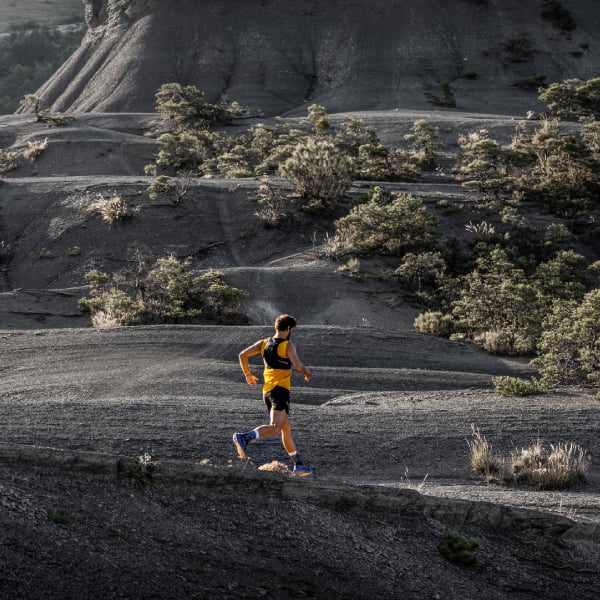 June 23, 2022
What is Energy Blade?
"Like jet packs for your feet." That's just one of the many eye-opening comments from our team of pro athletes and product testers after running in shoes made with Energy Blade, our latest technology that takes fast and fun to a whole new level. But what exactly is Energy Blade? How does it work? What are the benefits? And who is it for? Salomon's Energy Blade brings speed to the masses and this article gives you the complete down low on this remarkable technology.
Energy Blade is a new technology from Salomon that injects power and propulsion into your stride. Lightweight, responsive plates in the sole of the shoe actually improve running efficiency by creating a springboard effect that accelerates the stance and eases propulsion. At official races, we spoke to runners who were psyched to have broken their PB when running with plated footwear!
Mike Ambrose, Product Line Manager for Trail Running at Salomon explains the idea: "We wanted to bring heightened responsiveness and a feeling of 'pop' into the run. With Energy Blade, the Salomon team has created our fastest running shoes ever. Everyone from our designers to pro athletes have been so thrilled about it that we decided to add it to trail running and fast hiking shoes as well. We wanted to bring the same level of fun and excitement into trail running that our team has introduced into road running."
How does Energy Blade work?
To heighten your running and outdoor experience, Salomon has developed a lightweight, responsive plate that acts like a springboard to add power and propulsion to your stride. And just as Salomon provides many different models of footwear designed precisely for a variety of athletes' specific needs, our experts have created several sport-specific Energy Blade technologies featuring varying stiffnesses, geometries and materials to enhance the design of each footwear model and deliver a range of products that exceeds the expectations of our communities.
Road running
Several shoes in our road running lineup feature a composite fiber plate that uses a unique manufacturing process, which allows each model to vary in stiffness in specific areas under the foot to promote faster forward propulsion from landing to toe-off, and to help to save waste and improve running efficiency. 
Trail running
Partly inspired by the hooves of astonishingly fast and fleet mountain goats, Salomon's pioneering trail shoe development team designed a lightweight, TPU-injected composite plate built into the shoe's springy midsole to still provide the springboard/rocking chair effect while remaining flexible enough to be comfortable and stable. The Energy Blade itself doesn't work alone, however. It's the unique synergy between the blade, the new bouncy midsole foam technology and rocker geometry that activates forward propulsion and ensures smooth, stable transitions in all conditions.
Hiking
Energy Blade for hiking features a lightweight TPU plate that works in cohesion with the soft and springy midsole. Placed in the forefoot area, it filters terrain 'noise' and delivers a smooth, dynamic stride.