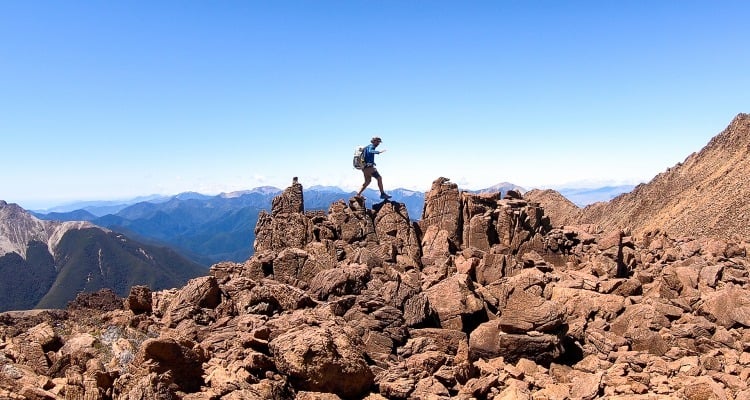 October 16, 2020
One Foot In Front Of the Other - A Walk Through New Zealand
Last year, Jean Hacquart walked the length of New Zealand…all by himself. On his way to the airport, he bought a GoPro to chronicle his journey. The result is this fantastic, introspective short film, One Foot in Front of the Other, that captures Jean's hike across the two islands that make up one of the most spectacularly scenic countries on earth. We hope you enjoy it.
How I filmed 

One Foot in Front of the Other
By Jean Hacquart
I never planned to make a film about my hike from the top of the north island to the southernmost point of New Zealand's south island. The day before my departure to New Zealand, I received a call from my good friend, Jeremy Janin, who happens to be an expert content creator.
- "Buddy," he said, "you have to film your adventure!"
- "Why not?" I said. "Except I've never filmed anything before."
- "Don't worry," Jeremy said. "I'll give you a few tips and you'll be fine."
The night before I left, Jeremy spent an hour on the phone with me offering a "crash-course" lesson in how to shoot and talk to the camera. His most valuable bits of advice prior to the trip were to never stop changing the point of view of the camera and try to talk every day to the camera, even for a really short time.
After a good night of sleep, I was at the airport buying a GoPro, a couple of extra batteries, and a tripod. Suddenly, I was a filmmaker. The result is the film you see above, with a lot of help from Jeremy in the editing process. So thank you, Jeremy.
Here's what went into making the film
1 GoPro 7, 2 extra batteries, 1 mini flexible tripod, 4 microSD cards, 1 SSD hard drive

I charged the batteries every time I was in town (once a week on average)

To back up my files, I often borrowed a computer in cafés or hostels and saved everything on a 512g hard drive.

I never deleted anything on my SD cards so that I would have a backup 

I gathered 8 hours of rush footage to make this 24-minute film

Almost 3 hours of the footage was useless because it was of me walking back to get my camera after filming myself walking

I don't know how many extra miles I walked to shoot this film and get then go back and get the camera. Luckily, the GoPro has a super wide angle and I didn't have to go very far each time. 

Thanks to the flexible tripod, I was hanging the GoPro in trees, putting it on uneven terrain, or wrapping it around my walking poles.

The editing part took Jeremy and I a few weeks during the lockdown, working on and off

I used a microphone to record the voice-over at home

I filmed everything myself 
Thanks for watching!