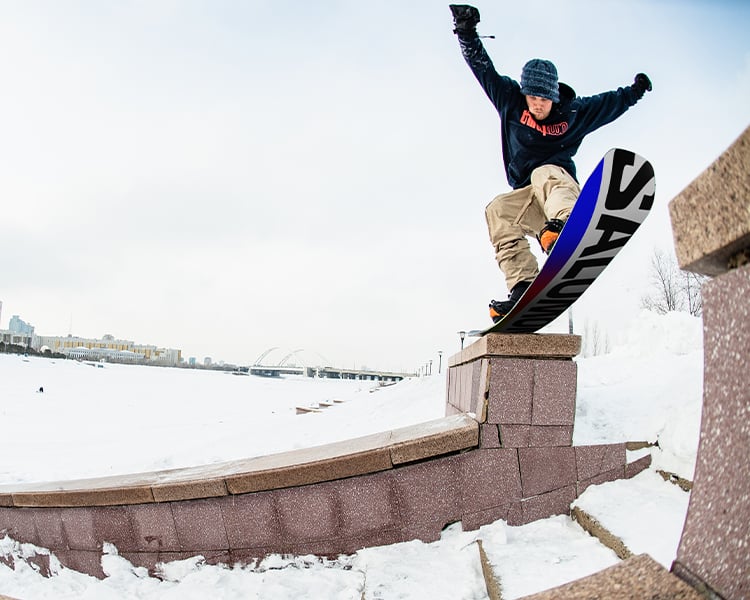 June 28, 2022
How to choose your snowboard helmet.
A ski or snowboard helmet is essential safety gear that has been widely adopted across all disciplines of each sport. In order to get one that provides the best protection with the most comfort it's important to choose wisely. Here's what we recommend.
Helmets designed for a specific use
There's no technical difference between a ski helmet and a snowboard helmet. So whether you choose a ski or a snowboard helmet is a question of aesthetics more than anything. A ski helmet works perfectly well for snowboarding and vice versa.
Regardless of whether you ski or snowboard, you need to choose a helmet that's specifically designed for your intended use:
Resort skiing:

 

these are the most versatile helmets with features to match your needs – adjustable ventilation, audio system, etc. – and budget.
Freeride, backcountry:

 

so lightweight and well-ventilated you'll forget you're wearing it on the approach as well as during the descent.
Backcountry skiing, ski touring, ski mountaineering:

 

ultralight and well-ventilated helmets to keep you from overheating on the way up. Some of these helmets comply to the climbing and mountaineering standard (EN 12492) in addition to the ski standard.
Freestyle:

 

stylish, reinforced helmets for riding the terrain park.
Racing, competitive alpine skiing, boardercross:

 

these helmets are specially designed to provide aerodynamic protection adapted to each discipline. (Read our article about all the alpine ski disciplines. 
How to choose the right size helmet
To choose the right size helmet you should do two things:
1- Measure your head
To do this, you can go to a ski shop and use their special head measuring tool, or you can measure your head using a tape measure by running it 1cm (about a half inch) above your brow bone and just above your ears.

You now know your adult helmet size (generally):
XS:

 

48-53cm (19-21")
S:

 

53-56cm (21-22")
M:

 

56-59cm (22-23")
L:

 

59-62cm (23-24.5")
XL:

 

62-64cm (24.5 - 25")
The sizes for kids' helmets are generally:
S:

 

48-53cm (19-21")
M:

 

53-56cm (21-22")
For a helmet to be the right size, the tightening system shouldn't be maxed out on either end. In other words, the system shouldn't be fully tightened or fully loosened when the helmet is sitting in the right place and comfortable.
2- Try different helmets
It's important to try several helmet models to make sure you choose the one that is the most comfortable and secure.
Our men's helmets | Our women's helmets
The helmet should feel as though it fits your head perfectly, it should be held in place without being too tight and it shouldn't have any pressure points.

A quick test is to move your head up and down and left and right without closing the chin strap. A helmet that fits well will stay in place and always cover your forehead.

Men's and women's sizes are the same. Only the aesthetics and interior fabrics are different.
Our men's ski goggles | Our women's ski goggles
Helmet technology
All ski and snowboard helmets must conform with standard CE-EN1077 (European standard) or ASTM F-2040 (North American standard). Helmets that meet these standards are guaranteed to provide the same basic level of protection, regardless of construction: ABS, in-mold or hybrid.
ABS helmets
Ski helmets made of injected ABS (Acrylonitrile Butadiene Styrene) consist of an outer shell of hard ABS plastic with an EPS (Expanded Polystyrene) protective foam glued inside. ABS helmets are highly impact resistant but are a bit heavier. This is the most common technology used to make solid helmets with good protection at a competitive price.
In-mold helmets
An in-mold helmet consists of a very thin plastic outer shell that's molded directly onto the inner EPS foam. This results in a very light and compact ski helmet.
Hybrid helmets
Hybrid helmets combine ABS injection on the upper part of the helmet and in-mold technology on the lower part. This provides a good compromise between light weight, impact resistance, and protection for both skiing and snowboarding.
MIPS technology
Some helmets are also equipped with MIPS technology which, in the event of a bias impact, provides better protection for the brain by considerably reducing the rotational force. This additional technology raises the price of the helmet and so it is mainly found on high-end models.
Ski helmet features
Ski and snowboard helmets have features that make them more or less suited to the needs of each discipline. In the end, it's the finish quality and the features that determine the price of the helmet.
Ventilation
A ski helmet's ventilation comes from vents at the front and back of the helmet that allow cool air to enter the helmet while holes in the top allow heat to escape. The number and size of the vents vary according to the discipline the helmet is designed for.
Adjustment systems
Many helmets feature a dial at the back of the helmet that makes it possible to precisely adjust the circumference. The BOAⓇ cable system provides micrometric adjustment that tightens the helmet evenly around your entire head.
Adjustments on ski touring helmets are made with Velcro or a simple ratchet system to keep things as light as possible.
The inner lining
The quality of the lining makes a big difference as to the ultimate comfort of the helmet and its durability. The liners in most helmets are detachable and washable.
Integrated visor
A visor integrated into the helmet is a feature originally designed for those who wear glasses. However, it appeals to a large number of skiers because it is so practical.

The integrated visor is also popular with kids who like it because they don't have to hassle with goggles in addition to all the rest of their ski gear.

When trying a visor helmet on, be sure to properly adjust the tightening knob and chin strap before lowering the visor to ensure maximum stability.
Audio systems
For skiers and snowboarders who love music, there are helmets with headphones integrated into the ear cups. This feature is most appreciated by resort skiers and freestyle riders but should really only be used when you're on the lift.

On ski and snowboard days when your head feels great, you'll surely understand: to each his own helmet!