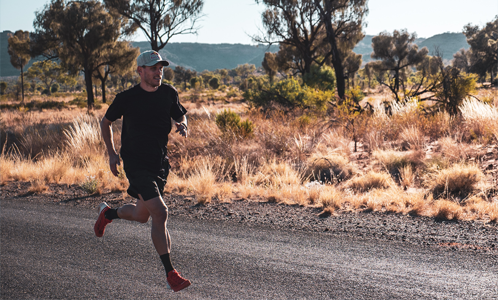 November 20, 2020
5 TIPS FOR A FASTER 5KM | BY COURTNEY ATKINSON
To prepare you for the Salomon Virtual Tour event, we've got 5 tips to run your fastest 5km from Salomon Athlete Courtney Atkinson. You'll no doubt be flying off the virtual line if you follow these.
Above all the most important tip is CONSISTENCY!
Begin hydrating three days before a big run or race. The recommended amount of water is 1.5 to 2 liters of water per day. Of course, when it's hotter than normal outside you should increase that amount.
#1 PACING
If you feel like you are starting to fast you are! If you feel like you are starting at the right pace, you are still probably starting too fast! If you feel like you are going too slow to start, then you are most likely right where you want to be. The strategy is to take the average km split of you 5km and run no faster than that for your first 1km of your next 5km attempt. I use the Suunto Baro 9 is the GPS watch I use to monitor my pace.
#2 CADENCE
A Rule of Thumb is to aim for around 170 – 180 steps per minute. Try not to overthink every step, but use it as a cue to help find rhythm and flow and also aim to reduce contact time on the ground. You can use a metronome, or I prefer to use a 170 or 180 beats playlist on Spotify. My favourite song that gets me straight into a good rhythm is Get By - by Dallas Woods.
#3 MUSIC
It always helps rhythm, and helps provide a positive feeling – I run withJayBird Vista wireless waterproof headphones. Here is my Aussie Music Playlist, if you don't mind a bit of Australian Hip Hop.
#4 FUEL
Pre Run – Sugar and caffeine are proven to work for sports. For 5km I'd drink a 250ml Red Bull Energy Drink which is equivalent to an energy gel but with caffeine. I'd normally drink one 20-30 mins pre-race or before a hard run session.
#5 MENTAL CUES
Running at some point becomes hard. My cue is to stop thinking about how far I have to go, how my legs feel, and concentrate on the small achievements. I run the best 10 steps I can counting my left leg and then the same for my right, over and over. The focus becomes on executing the NOW.
GENERAL OBSERVATIONS
Running should be freedom! We all have different body shapes and age so there's no box or technique we are all going to fit into... especially on the trails.
Watch a kid run and the flexibility, freedom, and fun they have… that's what I still look for in why I run.
Follow Courtney on Instagram @mrcourtneyatkinson. Not only is he an amazing athlete, but also an incredible content creator!