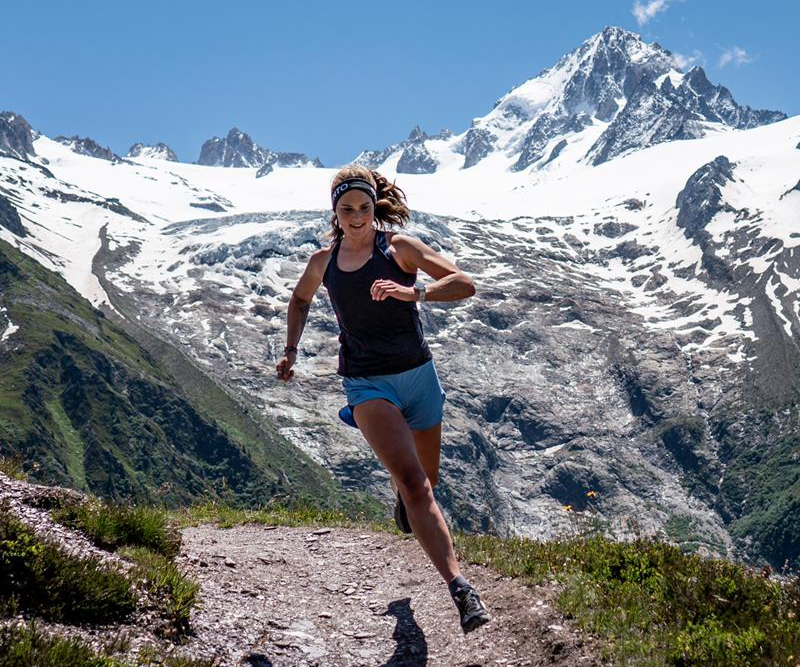 September 13, 2021
2021. A Race Season Like No Other...
2021. A Race Season Like No Other...
Professional trail running is full of challenges at the best of times and in 2021 amid a global pandemic, those challenges came in new and unexpected ways.  

We touched base with Australian trail runner Simone Brick @theflyingbrick_ who just arrived back to Melbourne after a race season like no other in the European Alps, learning and competing against the very best.  
When did you travel to Europe?  
I left for Europe on June 9th, amidst a locked down Melbourne, spending time in France, Italy, and Switzerland, before starting quarantine back in Melbourne two months later on August.   
Which races did you manage to compete in and how were your personal results compared to what you expected? 
I competed in three of the Golden Trail World Series races. This started in July with Marathon du Mont Blanc (MDMB) in Chamonix, France, (38km, 2630m+/1700m-), which was an amended course and date due to covid. Here I had a really rough day, coming 28th in 5:03:22 after a few things went wrong in the lead up and I rolled my ankle 15km in. But like a lot of rough experiences in life, this is also the race a learnt the most from.   
Next stop was Dolomyths Run in Canazei, Italy (21km, 1650m +/-) on July 18th. There I performed better than I expected on terrain unlike anything I had ever seen before to come 24th in a deeply competitive field in a time of 2:44:53.   
Lastly, on August 7th, was Sierre-Zinal, an iconic point-to-point 31km (2200m+/1100m-) race in Switzerland. This was the most competitive field I have ever lined up against, but unfortunately after nine weeks of travel my body and mind just didn't have the capacity to back up from Dolomyths run. I still thoroughly enjoyed the race and the experience in a different way though, performing worse than I would have wanted at the start of the trip but about where I thought I would on the day, coming in 36th in 3:37:05.
What did your race gear consist of and how did you select the right footwear and apparel for each race? 
MDMB: I chose S/LAB Sense 8 SG because the course was not too technical and these were the shoes I have the most race experience in, so trusted them to feel good for the whole length of the race. I carried my water and other mandatory gear (phone, survival blanket, cup, whistle, SLAB Motionfit 360 Waterproof Jacket) in the new Sense Pro 5 Women's set, which I love the women's specific fit of. I also wore the black Sense Shorts and white Sense Tee, and I used Tailwind Nutrition throughout the race.  
Dolomyths Run and Sierre-Zinal: I wore the new Sense 4 Pro shoes because they maintain a low to the ground fast feel where I can feel the trail as I run, but enough protection from the sharp rocks and technical terrain that I wouldn't be too worried about foot placement. No mandatory gear so the only other things were the Salmon XA Shorts and Sense Tank, again with Tailwind for nutrition for both races. 
How did the training differ from what you're used to here in AUS? 
There were three main differences; elevation, altitude, and technicality. Which put simply means everything felt different! I had never run on terrain like any of the races I did, so I really felt like a complete newbie being put among seasoned pros and learning the ropes as I went. Initially I tried not to change how I trained too much, running the flat parts of the Chamonix valley over and over with only the targeted sessions on the hills and course being different. This was so I didn't shock my body and end up with an injury.   
As the trip went on and my body got somewhat used to climbing 1000m in less than 5km, or being at 2500m altitude and above, or 6 hour 'runs' through the mountains, I became a bit more entrenched in the environment and everything about my training began to look different, purely due to where I was rather than any purposeful change. Easy runs were slower but more hilly, long runs were the same distances I was used to but much longer in time, and my flat fast sessions became few and far between as I tried to walk the line of recovery and preparedness. That worked for about 7 weeks, but the last two weeks of the trip felt like every change catching up to me and my fatigue levels were higher than I had every experienced, but that was all part of the steep learning curve I was on.
How hard was it to remain connected to family, friends and study? 
Remaining connected to home throughout my trip was in many ways easier than it ever has been thanks to the wonders of technology, but also more difficult due to the time differences and solo nature of my travel.   
With an 8 hour time difference, I would be going to sleep as everyone at home was waking up, and then upon waking I had around 6 precious hours of being able to contact family and friends. I found this quite difficult at times because the morning is usually when I am busiest with training and adventure before spending the afternoon relaxing, when I would usually try to reconnect with home.   
Study I just didn't even try to remain connected with. I was lucky that only the last three weeks of my trip were during the semester, and that no assignments were due in that time. I knew trying to concentrate on study on top of every other aspect of training, travelling, and racing would only end in me feeling scattered and doing everything half as good, so I switched off from study and left that as a worry for quarantine. 
How did you unwind throughout your race season? 
I was avoiding too much travel and activity outside my training, so down time looked similar to home with gentle swims, walks, and writing. The addition was an occasional a trip on a gondola or train up a mountain to check out some views, or visiting any restaurant I found that I could actually eat at with my  vegan/coeliac diet combo.   
What were some of the additional challenges you had to face due to the Pandemic?
Most of all it added to the cost, as I avoided all hostels and share accommodations for both optimal training and health purposes, and every covid test you get for travel reasons costs anywhere from $120-$200AUD. Add to that flights that were more expensive than usual and paying for quarantine at the end, and I was thankful I had been saving for 18 months for this trip.   
Cost aside, the main struggle I had was the mental one of both feeling for everyone I knew back at home still stuck in a cycle of lockdowns, and not knowing whether my flight home would actually happen. With the number of Australians being allowed back into the country being halved, I was extremely worried during the tough times when I was desperate to be back among people I loved that I wouldn't be able to find a replacement if it got cancelled.
What did you learn from other Salomon athletes and product specialists?  
So much!! For me this was one of the main purposes of the trip, to learn and experience racing overseas so I can use all that knowledge to better my training and racing for years to come. I learned more that I can summarize succinctly yet, but one of the main things were how to train for the more technical terrain and longer climbs, which is something that I have always found difficult living by the beach in Aus!
A lot of it does come down to exposure, but by asking a multitude of questions and getting to see the terrain myself I came home with many more creative ideas about how to prepare my body for the mountains while living over an hour from any climb of merit when it comes to European races. I also learned heaps through observation of other athletes about how many of them recover and cross-train to keep backing up race after race. On the product side I did get a couple of insights into what is to come in the future for some Salomon products, particularly on the female-specific front, which is always super exciting to see the technology around trail running progressing.   
What does the remainder of the year hold and what are your race plans for 2022? 
Lots of rest! I have many niggles that popped up during the trip, and the long haul flight + quarantine combo did not do my body any favours after such a heavy load. So it will take me a good couple of months to reset and get back to training basics again. I may jump in a couple of races later in the year for some good training outings, but am keen to just enjoy the rest of the year before getting serious again.   
Next year will start the way I always love to, at Two Bays Trail Run, this time tackling the 56km for the first time. After that, the plan is not clear at all because everything is so fluid at the moment and I am yet to sit down with my coach for a solid planning session. But I am hopeful to get to New Zealand for a race or two, possibly the mountain running world championships, the Golden Trail World Championship week-long event, and a longer Ultra somewhere in there. As with many runners right now though, I am open to any opportunity to race that fits the schedule and actually happens!
To keep up to date with Simone's race schedule and training follow @theflyingbrick_ 
Image credit: Martina Valmassoi and Jordi Saragossa