Snowboard Boots
SYNAPSE FOCUS BOA SNOWBOARD BOOT MEN
$599.99 AUD
SYNAPSE FOCUS BOA SNOWBOARD BOOT MEN
- Choose your size
Returns within 30 days of receipt following our return policy. Items must be in as new condition and returned in their original packaging with tags attached or returned.
All our products come with a two-year quality warranty.
Benefits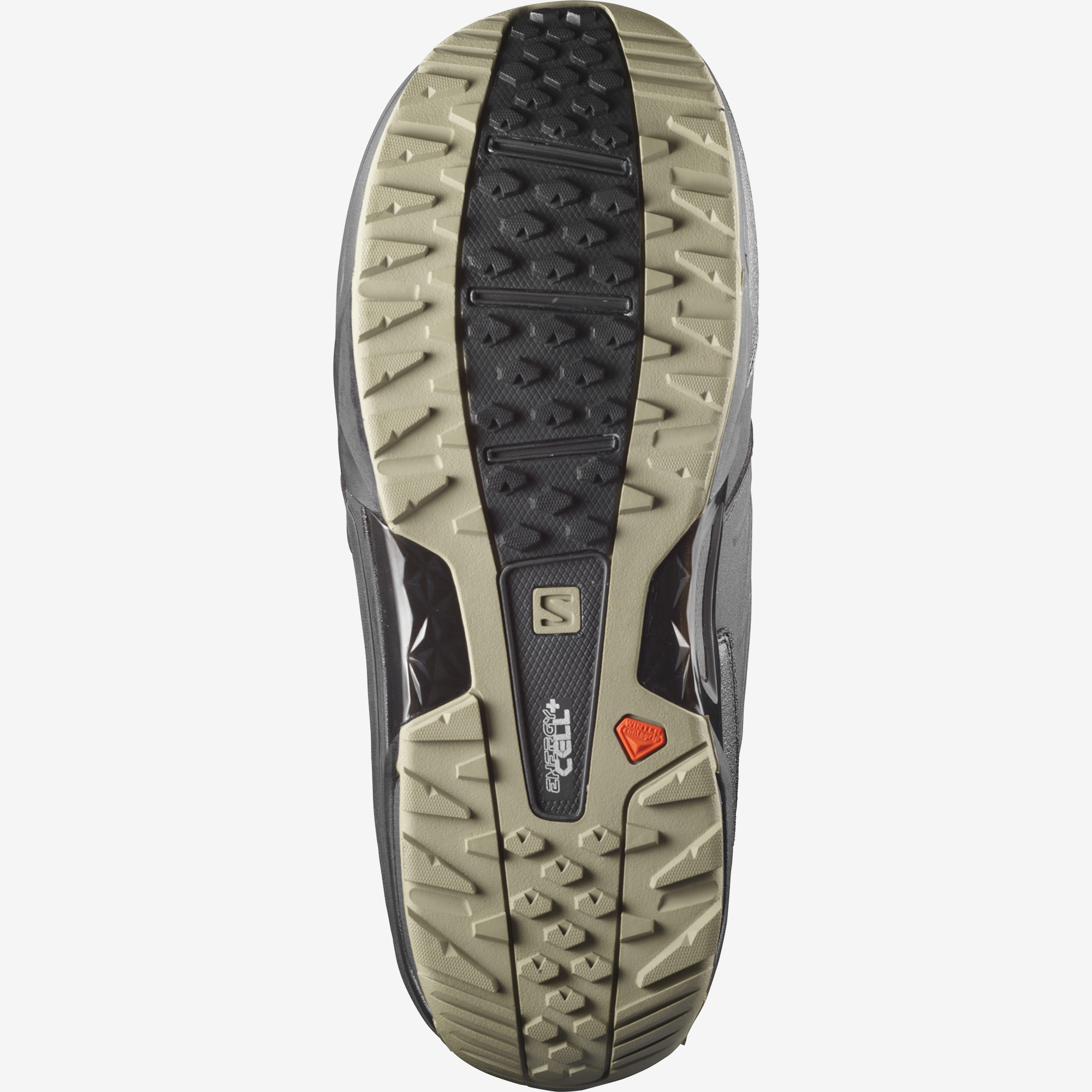 All-mountain boot with a supportive flex for high all-terrain performance.
The all-mountain performance boot for the adventurous rider. The dual zone Synapse Focus BOA® features a premium construction and a lightweight Response Liner that breathes when feet overheat and helps defy the cold weather. Loaded with tech for traction, support, and a custom fit right out of the box.
Response
Built with a lightweight, breathable and fully customisable liner for the best in foot envelopment and comfort.
Lacing
Focus BOA® delivers a dual zone BOA® Fit System that allows the rider to adjust articulation on both lower and upper zones of the boot.
Traction
Trek EC+ outsole has been developed to offer the best of touring: High traction specific design and maximum dampening, inspired by hiking boots.
Technologies
LINER FOAM
Full Custom Fit
FOOTBED
Ortholite C3, Quickdry Insole
OUTSOLE
Trek EC+, Contagrip® rubber
LACING SYSTEM
Focus BOA®, SS2 BOA® Lace, H4 coiler™ BOA®
Materials & Maintenance
Weight sample size (kg)
1.1
Sizing advice
Make sure to check the size guide to find the right size
Reviews
Snowboard Boots
Calculate your own measurements, then select your product size
| | | | | |
| --- | --- | --- | --- | --- |
| Foot length (mm) | Mondo | UK | US | EUR |
| 211-215 | 22 | 2.5 | 3,5 M | 34.5 |
| 216-220 | 22.5 | 3 | 4 M | 35.5 |
| 221-225 | 23 | 4 | 5 M | 36.5 |
| 226-230 | 23.5 | 4.5 | 5,5 M | 37 |
| 231-235 | 24 | 5 | 6 M | 38 |
| 236-240 | 24.5 | 5.5 | 6,5 M | 38.5 |
| 241-245 | 25 | 6 | 7 M | 39 |
| 246-251 | 25.5 | 6.5 | 7,5 M | 40 |
| 252-256 | 26 | 7 | 8 M | 40.5 |
| 257-262 | 26.5 | 7.5 | 8,5 M | 41.5 |
| 263-267 | 27 | 8 | 9 M | 42 |
| 268-272 | 27.5 | 8.5 | 9,5 M | 42.5 |
| 273-277 | 28 | 9 | 10 M | 43 |
| 278-283 | 28.5 | 9.5 | 10,5 M | 43.5 |
| 284-288 | 29 | 10 | 11 M | 44 |
| 289-294 | 29.5 | 10.5 | 11,5 M | 44.5 |
| 295-299 | 30 | 11 | 12 M | 45.5 |
| 300-305 | 30.5 | 11.5 | 12,5 M | 46 |
| 306-310 | 31 | 12 | 13 M | 46.5 |
| 311-315 | 31.5 | 12.5 | 13,5 M | 47 |
Snowboard Boots
Calculate your own measurements, then select your product size
| | | | | |
| --- | --- | --- | --- | --- |
| Foot length (mm) | Mondo | UK | US | EUR |
| 211-215 | 22 | 2.5 | 3,5 M | 34.5 |
| 216-220 | 22.5 | 3 | 4 M | 35.5 |
| 221-225 | 23 | 4 | 5 M | 36.5 |
| 226-230 | 23.5 | 4.5 | 5,5 M | 37 |
| 231-235 | 24 | 5 | 6 M | 38 |
| 236-240 | 24.5 | 5.5 | 6,5 M | 38.5 |
| 241-245 | 25 | 6 | 7 M | 39 |
| 246-251 | 25.5 | 6.5 | 7,5 M | 40 |
| 252-256 | 26 | 7 | 8 M | 40.5 |
| 257-262 | 26.5 | 7.5 | 8,5 M | 41.5 |
| 263-267 | 27 | 8 | 9 M | 42 |
| 268-272 | 27.5 | 8.5 | 9,5 M | 42.5 |
| 273-277 | 28 | 9 | 10 M | 43 |
| 278-283 | 28.5 | 9.5 | 10,5 M | 43.5 |
| 284-288 | 29 | 10 | 11 M | 44 |
| 289-294 | 29.5 | 10.5 | 11,5 M | 44.5 |
| 295-299 | 30 | 11 | 12 M | 45.5 |
| 300-305 | 30.5 | 11.5 | 12,5 M | 46 |
| 306-310 | 31 | 12 | 13 M | 46.5 |
| 311-315 | 31.5 | 12.5 | 13,5 M | 47 |
Snowboard Boots
Calculate your own measurements, then select your product size
| | | | | |
| --- | --- | --- | --- | --- |
| Foot length (mm) | Mondo | UK | US | EUR |
| 211-215 | 22 | 2.5 | 3,5 M | 34.5 |
| 216-220 | 22.5 | 3 | 4 M | 35.5 |
| 221-225 | 23 | 4 | 5 M | 36.5 |
| 226-230 | 23.5 | 4.5 | 5,5 M | 37 |
| 231-235 | 24 | 5 | 6 M | 38 |
| 236-240 | 24.5 | 5.5 | 6,5 M | 38.5 |
| 241-245 | 25 | 6 | 7 M | 39 |
| 246-251 | 25.5 | 6.5 | 7,5 M | 40 |
| 252-256 | 26 | 7 | 8 M | 40.5 |
| 257-262 | 26.5 | 7.5 | 8,5 M | 41.5 |
| 263-267 | 27 | 8 | 9 M | 42 |
| 268-272 | 27.5 | 8.5 | 9,5 M | 42.5 |
| 273-277 | 28 | 9 | 10 M | 43 |
| 278-283 | 28.5 | 9.5 | 10,5 M | 43.5 |
| 284-288 | 29 | 10 | 11 M | 44 |
| 289-294 | 29.5 | 10.5 | 11,5 M | 44.5 |
| 295-299 | 30 | 11 | 12 M | 45.5 |
| 300-305 | 30.5 | 11.5 | 12,5 M | 46 |
| 306-310 | 31 | 12 | 13 M | 46.5 |
| 311-315 | 31.5 | 12.5 | 13,5 M | 47 |
Liquid error: Could not find asset snippets/faq-item.liquid