Essential info
Hydration solution
Bladder included
Dimensions (L x W x D)
40cm x 18cm x 17cm
Benefits
SKIN PRO 15 SET
The one-size-fits-all SKIN PRO 15 SET is a light, stretch, slim fitting, pack for mountain running, hiking, or biking. It has a new strap adjustment for all sizes that also improves stability. The versatile, stable gear carrying system makes it easy to attach poles, ice axes, a helmet and pad.
Stability
Thanks to TwinLink sternum adjustment and a stable gear- carrying system, this pack won't budge when you bound along the trail.
Lightweight
Minimalist design and lightweight materials ensure the weight of the world is not on your shoulders, whether you're mountain running, hiking or biking.
Stretch comfort
Stretch Sensifit construction creates a snug comfortable fit, freeing you to concentrate on jumping from one mountain to the next.
Technologies
CONCEPT & TECHNOLOGY
SensiFit™
Stability/freedom of movement The construction uses stretch, breathable fabrics that conform to the body, and lightweight adjustments for fit and stability. The pack doesn't bounce but allows comfortable breathing.
BACK SYSTEMS
Adjustable sizing
Two straps let you adjust the size from S to L.
HYDRATION
Under arm routing
A logical shorter way to get water up to the mouth with less fatigue.
Large twin link
Light, easy custom adjustment system eliminates pressure points on the sternum area and increases breathing comfort. Large system (strap and hook) for ease of use with gloves.
Sensi compression
A lightweight construction that stabilizes weight on the back, can be adjusted even while running.
4D blader insulated sleeve
Removable bladder sleeve made with insulated fabrics makes it easy to replace the bladder.
Blader hanging system
Hanging strap holds the bladder in place.
Compatible with soft flasks 500ml
Plug-n-Play system
A 'click' valve that makes it easy to disconnect the tube from the bladder, even when the bladder is full.
Soft 1.5l blue reservoir included
For avid runners who want easy hydration, Salomon's blue reservoir features a specific lateral exit for underarm routing, reducing effort to drink. The top slider allows quick re-fills and easier cleaning (reversible reservoir). Specific valve for high flow.
2 front soft hydration elastic pockets
Designed to fit 500ml soft flasks, the chest pockets maintain high stability, reduce bouncing and make quick access easy.
2 front stretch pockets
Expandable front pockets to store essentials you want to access on the go.
4D pole holder
Connect your poles to your pack quickly and easily with this intuitive system. Simply take out the top strap and insert the top of the pole, rotate the pole around your back, then wrap the bottom strap around it and tighten it. Can also be used to attach your helmet.
1 internal pocket
Helmet carrier
A minimalist solution to safely carry your helmet. Slide the helmet strap into the elastic loops on each side of the pack and tighten it to increase stability.
3D air mesh
Very soft three-dimensional mesh adapts to the body, even in motion, without abrasion to skin or tee shirt. Large holes make it very breathable and comfortable. Ideal for lightweight trail running fitted packs.
70D nylon double ripstop, waterproof 500mm
Salomon trail packs are equipped with an easy to use safety whistle, attached to the bag so you don't lose it.
Elastic power mesh
Highly stretch and breathable fabric that adapts to the body.
Fast wicking fabrics
Improving quick drying and moisture management, these light fabrics deliver top performance, comfort, and odor resistance.
PVC free
Materials & Maintenance
Care
Do Not Dry Clean
Hand Wash Cold (30°C)
Tumble Dry Low
Do Not Iron
Do Not Bleach
Reviews
Men's Advanced Skin Packs
Calculate your own measurements, then select your product size
| | |
| --- | --- |
| ORDER SIZE | CHEST (INCH) |
| XS | 32-35 |
| S | 34.5-38 |
| M | 37.5-40 |
| L | 39.5-42.5 |
| XL | 42-45 |
| | |
| --- | --- |
| ORDER SIZE | CHEST (CM) |
| XS | 81.5-89 |
| S | 88.5-96 |
| M | 95.5-102.5 |
| L | 101.5-108.5 |
| XL | 108-115 |
Chest: Measure around the chest horizontally at the widest point
Women's Advanced Skin Packs
Calculate your own measurements, then select your product size
| | |
| --- | --- |
| ORDER SIZE | CHEST (INCH) |
| XXS | 23-32 |
| XS | 32-34 |
| S | 34-35.5 |
| M | 35.5-37.5 |
| L | 37.5-40 |
| | |
| --- | --- |
| ORDER SIZE | CHEST (CM) |
| XXS | 76-81.5 |
| XS | 81-86.5 |
| S | 86-90.5 |
| M | 90-96.5 |
| L | 96-102.5 |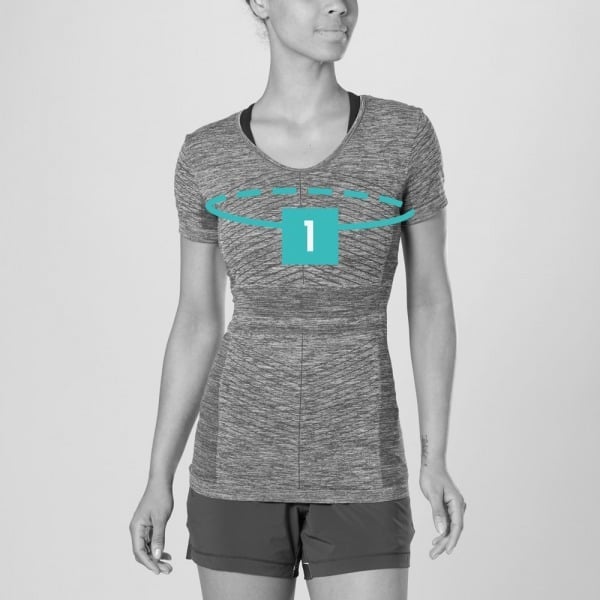 Chest: Measure around the chest horizontally at the widest point