Snowboard Boots
SCARLET BOA SNOWBOARD BOOT WOMEN
$299.99 AUD
SCARLET BOA SNOWBOARD BOOT WOMEN
- Choose your size
Returns within 30 days of receipt following our return policy. Items must be in as new condition and returned in their original packaging with tags attached or returned.
All our products come with a two-year quality warranty.
Benefits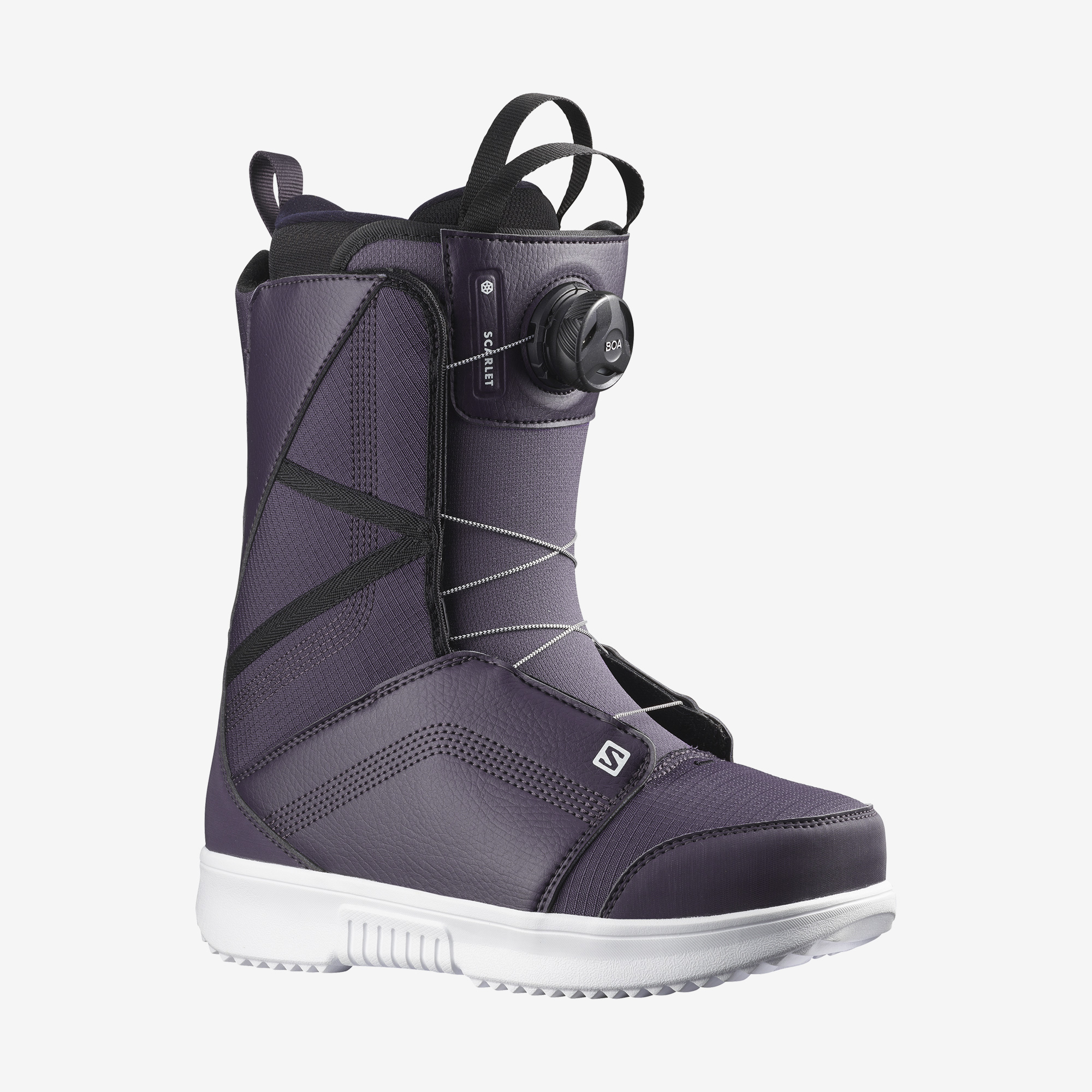 Tasteful style, supreme comfort, and superior quality at an inferior price.
The Scarlet BOA® emphasizes comfort and convenience in a softer profile, allowing progression and performance for those seeking a forgiving boot. Built with Fit To Ride design on a sneaker inspired D-Light outsole, the Scarlet BOA® provides comfort and durability in a lightweight boot with board feel and dampening that your feet will appreciate.
Comfort
Fit To Ride construction with our Universal Liner provide unmatched out of the box comfort for all types of feet, plus heat moldable materials for a customized fit.
Lacing
Equipped with BOA® Fit System's H4 Dial and SS2 lace for increased performance and durability in all elements.
Lightweight
D-Light outsole makes for a lightweight boot with exceptional board feel and increased shock absorption.
Technologies
MUTATION CONSTRUCTION
FTR / 1:1
LACING SYSTEM
BOA® Fit System, H4 BOA®, TX3 BOA® Lace
Materials & Maintenance
Weight sample size (kg)
0.8
Sizing advice
Make sure to check the size guide to find the right size
Reviews
Snowboard Boots
Calculate your own measurements, then select your product size
| | | | | |
| --- | --- | --- | --- | --- |
| Foot length (mm) | Mondo | UK | US | EUR |
| 211-215 | 22 | 2.5 | 3,5 M | 34.5 |
| 216-220 | 22.5 | 3 | 4 M | 35.5 |
| 221-225 | 23 | 4 | 5 M | 36.5 |
| 226-230 | 23.5 | 4.5 | 5,5 M | 37 |
| 231-235 | 24 | 5 | 6 M | 38 |
| 236-240 | 24.5 | 5.5 | 6,5 M | 38.5 |
| 241-245 | 25 | 6 | 7 M | 39 |
| 246-251 | 25.5 | 6.5 | 7,5 M | 40 |
| 252-256 | 26 | 7 | 8 M | 40.5 |
| 257-262 | 26.5 | 7.5 | 8,5 M | 41.5 |
| 263-267 | 27 | 8 | 9 M | 42 |
| 268-272 | 27.5 | 8.5 | 9,5 M | 42.5 |
| 273-277 | 28 | 9 | 10 M | 43 |
| 278-283 | 28.5 | 9.5 | 10,5 M | 43.5 |
| 284-288 | 29 | 10 | 11 M | 44 |
| 289-294 | 29.5 | 10.5 | 11,5 M | 44.5 |
| 295-299 | 30 | 11 | 12 M | 45.5 |
| 300-305 | 30.5 | 11.5 | 12,5 M | 46 |
| 306-310 | 31 | 12 | 13 M | 46.5 |
| 311-315 | 31.5 | 12.5 | 13,5 M | 47 |
Snowboard Boots
Calculate your own measurements, then select your product size
| | | | | |
| --- | --- | --- | --- | --- |
| Foot length (mm) | Mondo | UK | US | EUR |
| 211-215 | 22 | 2.5 | 3,5 M | 34.5 |
| 216-220 | 22.5 | 3 | 4 M | 35.5 |
| 221-225 | 23 | 4 | 5 M | 36.5 |
| 226-230 | 23.5 | 4.5 | 5,5 M | 37 |
| 231-235 | 24 | 5 | 6 M | 38 |
| 236-240 | 24.5 | 5.5 | 6,5 M | 38.5 |
| 241-245 | 25 | 6 | 7 M | 39 |
| 246-251 | 25.5 | 6.5 | 7,5 M | 40 |
| 252-256 | 26 | 7 | 8 M | 40.5 |
| 257-262 | 26.5 | 7.5 | 8,5 M | 41.5 |
| 263-267 | 27 | 8 | 9 M | 42 |
| 268-272 | 27.5 | 8.5 | 9,5 M | 42.5 |
| 273-277 | 28 | 9 | 10 M | 43 |
| 278-283 | 28.5 | 9.5 | 10,5 M | 43.5 |
| 284-288 | 29 | 10 | 11 M | 44 |
| 289-294 | 29.5 | 10.5 | 11,5 M | 44.5 |
| 295-299 | 30 | 11 | 12 M | 45.5 |
| 300-305 | 30.5 | 11.5 | 12,5 M | 46 |
| 306-310 | 31 | 12 | 13 M | 46.5 |
| 311-315 | 31.5 | 12.5 | 13,5 M | 47 |
Snowboard Boots
Calculate your own measurements, then select your product size
| | | | | |
| --- | --- | --- | --- | --- |
| Foot length (mm) | Mondo | UK | US | EUR |
| 211-215 | 22 | 2.5 | 3,5 M | 34.5 |
| 216-220 | 22.5 | 3 | 4 M | 35.5 |
| 221-225 | 23 | 4 | 5 M | 36.5 |
| 226-230 | 23.5 | 4.5 | 5,5 M | 37 |
| 231-235 | 24 | 5 | 6 M | 38 |
| 236-240 | 24.5 | 5.5 | 6,5 M | 38.5 |
| 241-245 | 25 | 6 | 7 M | 39 |
| 246-251 | 25.5 | 6.5 | 7,5 M | 40 |
| 252-256 | 26 | 7 | 8 M | 40.5 |
| 257-262 | 26.5 | 7.5 | 8,5 M | 41.5 |
| 263-267 | 27 | 8 | 9 M | 42 |
| 268-272 | 27.5 | 8.5 | 9,5 M | 42.5 |
| 273-277 | 28 | 9 | 10 M | 43 |
| 278-283 | 28.5 | 9.5 | 10,5 M | 43.5 |
| 284-288 | 29 | 10 | 11 M | 44 |
| 289-294 | 29.5 | 10.5 | 11,5 M | 44.5 |
| 295-299 | 30 | 11 | 12 M | 45.5 |
| 300-305 | 30.5 | 11.5 | 12,5 M | 46 |
| 306-310 | 31 | 12 | 13 M | 46.5 |
| 311-315 | 31.5 | 12.5 | 13,5 M | 47 |
Liquid error: Could not find asset snippets/faq-item.liquid