Snowboards
CRAFT SNOWBOARD
$699.99 AUD
CRAFT SNOWBOARD
- Choose your size
Returns within 30 days of receipt following our return policy. Items must be in as new condition and returned in their original packaging with tags attached or returned.
All our products come with a two-year quality warranty.
Benefits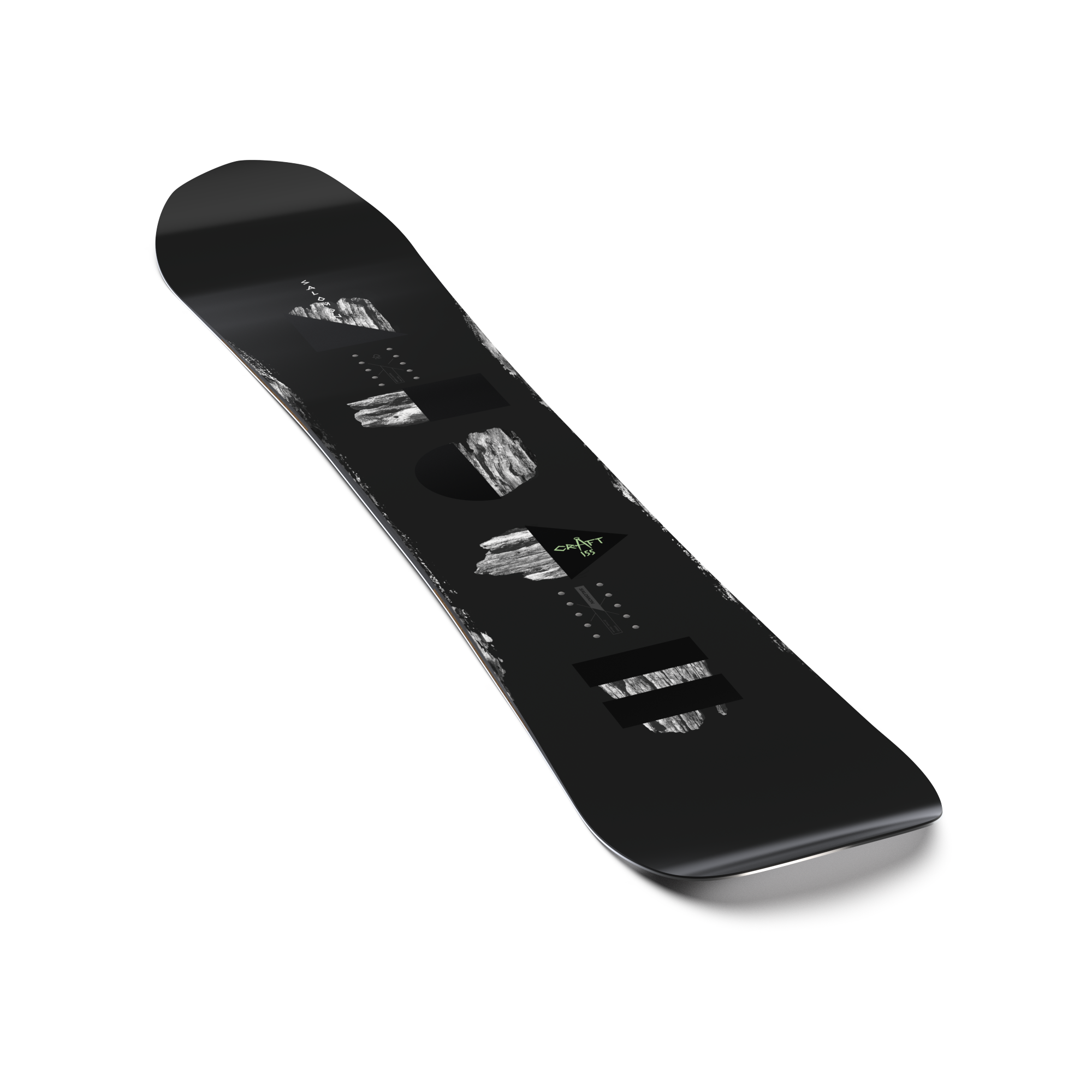 Perfect for all riding abilities, and ready for any terrain.
The Craft is our "jack-of-all-trades" freestyle board, budget friendly and accessible for all riders. Now equipped with cork sidewalls for an eco-friendly approach to soft landings and smooth rides plus our Rock out Camber for all-mountain freestyle accessibility. From corduroy and side-hits to park jumps and pow fields, Craft does not disappoint.
Versatility
From intermediate to expert and from pow to park, the medium flex and versatile Rock out Camber make this board ready to excel in any area and any condition on mountain.
Pop
Our Popster core features a milled area under foot, allowing for efficient energy transfer to the thicker zones in the tip and tail for explosive pop.
Value
Featuring Aspen Strong Core, Popster, Cork Rails, all on a sintered base with our hybrid camber profile; it's no wonder this board won Transworlds "Bang for your buck" award.
Technologies
SIDECUT
EQ Rad
Equalizer straight lines and Radial lines blended together for the perfect balance of agility and fun.
BOARD PROFILE
Rock Out Camber
Flat between your bindings for stability, Camber near the feet for response and a rocker on the tip/tail for pressability.
ADDITIVES
Popster
The core is strategically milled inside of the insert packs, allowing the board to flex more naturally underfoot and transfer energy into the nose and tail for added pop.
CORE TYPE
Aspen Strong, FSC certified woodcore
BASE FINISHING
Medium stone finish, Natural wax
EDGE FINISHING
Freestyle EB
SUSPENSION
Royal Cork Rails
Materials & Maintenance
Reviews
Craft Snowboard
Calculate your own measurements, then select your product size
| | | | | | | | |
| --- | --- | --- | --- | --- | --- | --- | --- |
| Size | 150 | 153 | 155 | 157W | 158 | 160W | 162W |
| Side cut radius (mm) | 7.5 | 7.7 | 7.9 | 8.1 | 8.1 | 8.4 | 8.7 |
| Tail width (mm) | 292 | 294 | 296 | 305 | 298 | 306 | 308 |
| Waist width (mm) | 247 | 249 | 251 | 261 | 253 | 262 | 264 |
| Nose width (mm) | 292 | 294 | 296 | 305 | 298 | 306 | 308 |
| Contact Length | 1,030 | 1,050 | 1,070 | 1,080 | 1,090 | 1,110 | 1,120 |
| Effective edge (mm) | 1,130 | 1,150 | 1,170 | 1,180 | 1,190 | 1,210 | 1,220 |
| Nose length (mm) | 235 | 240 | 240 | 245 | 245 | 245 | 250 |
| Recommended binding sizes | S/M | S/M | S/M | M/L | M/L | M/L | M/L |
| Recommended stance (mm) | 530 | 540 | 550 | 560 | 560 | 570 | 580 |
| Max stance (mm) | 586 | 596 | 606 | 616 | 616 | 626 | 636 |
| Rider weight Max (Kg) | 70 | 75 | 85 | 95 | 90 | 105 | 105 |
| Rider weight Min (Kg) | 50 | 55 | 55 | 65 | 65 | 70 | 70 |
Liquid error: Could not find asset snippets/faq-item.liquid